Often the most interesting part of any project is the planning and design stage before a spade is cut into the ground, but at Parke this hasn't been the case. Although the planning was rewarding and tested us all, it has been during the construction stage that much has been revealed.
Parke is a C17th Pembrokeshire cottage situated on a smallholding in the very south of the County. It is a rare survivor of the usual later modifications and retained a good part of the original base course straw thatch tied to waney oak laths with twisted straw rope. All of this had been protected from the elements under a tin roof for the last sixty years.
A huge protective scaffold was erected over the whole property before we could begin to carefully remove the layers of tin and timber covering the original roof.
We had understood from the records that the original cottage under thatch had later been supplement with a C19 extension, perhaps a parlour? as well as having had a new lateral chimney on the front elevation. As the thicknesses of limewash applied over a couple hundred years were removed, the building started to tell a different and far more complex story.
The rear and gable wall of the C19 extension exhibit mortar that is perhaps older than the cottage under thatch while the front wall of the extension has clearly been rebuilt in the nineteenth century. The older walls revealed hidden ventilation slot openings hinting that this may have been an attached animal byre long ago. Further mysteries surround the east wall of the old cottage itself where floor to ceiling joints are found that no longer relate to the existing openings. We have speculated that the cottage originally had a central doorway with symetrical windows located either side, an arrangement that was later moved north as the lateral chimney with a C19 cast iron range was added. Perhaps we will not know for sure unless the ground reveals further clues when the existing tiles are lifted.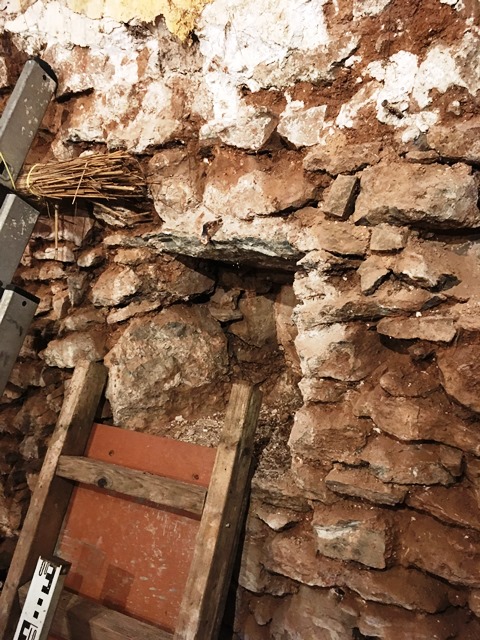 At first inspection our Master Thatcher, Pembrokeshire's Alan Jones, had thought that we may be able to save some of the original base course, but as the building was gradually revealed it became clear that it has deteriorated too much. However, we were able to save samples of the  straw thatch, the straw rope and oak pegs now retained at St Fagans Folk Museum.
Work continues at a good pace replacing rotting timbers while retaining most of the original A frames, consolidating walls and lintols ready for thatching to begin.