Occasionally a project comes along that presents a real design challenge. This Cottage is set in the rolling coastal countryside of West Wales, not far from Croes Goch. This is Knapp-Fisher country and the setting for this small holding would do any such painting justice.

It has been a much loved and well used holiday home for a good number of years comprising a three bedroom cottage and a converted outbuilding (probably a cow byre originally) that housed a teenagers room, games room and store. The two buildings were at near right angles to one another and at a level difference of about 700mm.
We wanted to link the two buildings together to form a larger permanent dwelling with twenty first century accommodation and services. The planning authority were correctly opposed to the creation of anything that lost the individual identity of the buildings or coalesced them into one mass.
Our solution was a glass box that linked the reordered plans together and allowed a change of level, but was transparent when viewed at a distance. The glazed link is carefully designed to have flush surfaces externally reducing its visual impact.
To accommodate the link we had to raise the roof level of part of the outbuilding, but this allowed a loft room to be created as part of an individual bed/living annex.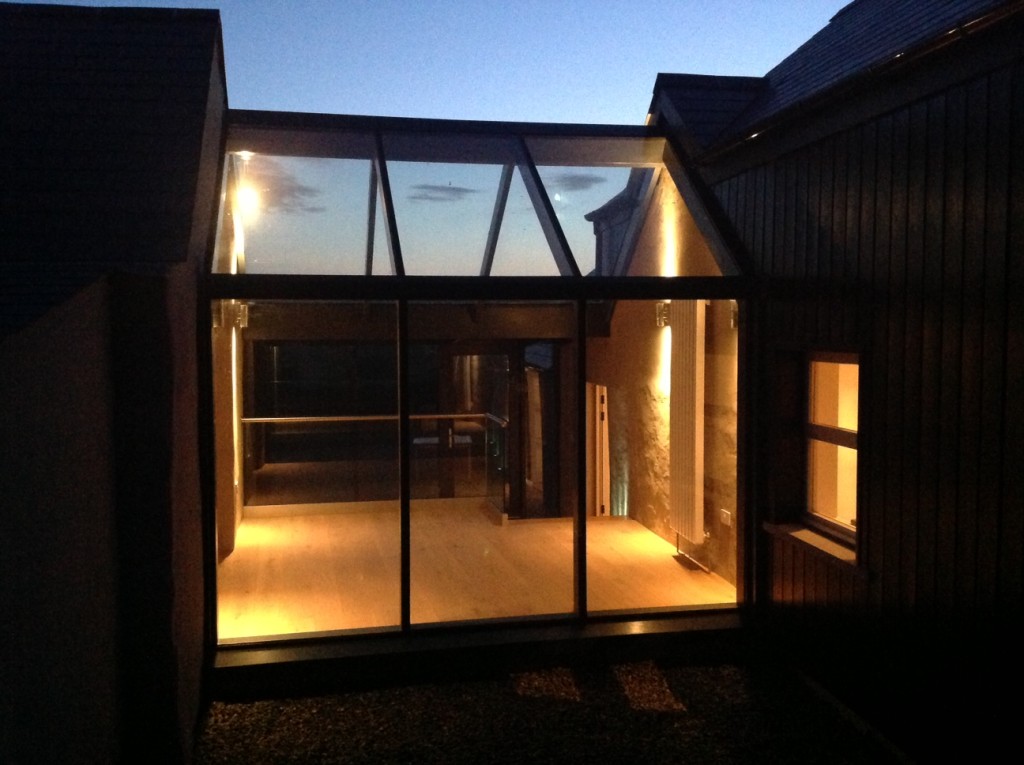 The new emphasis of the plan is on extensive living space, kitchen, dining, glass link and living room having the capability to form one fluid space centred on the glass link which has become a hub in the dwelling.
Bedrooms are now all to the south east area of the house clustered around a new contemporary bathroom and side lobby area with French door access to the rear court. The property has a state of the art ground source heat pump.
Architect: Steve Hole Architects
LLP