A recently finished design by the practice featured as one of the five best contemporary houses in the August issue of Homebuilding & Renovating Magazine published by The Daily Telegraph. The article is reproduced below.
Built on a plot which originally received planning for three houses, the owners of this contemporary home felt it was instead perfect for just one, very substantial home. The five bedroom house features huge amounts of glazing and is defined by two enormous full-height windows to the front gable ends. The crisp, white-rendered walls are in striking contrast to the slate roof, and to the rear lies a hexagonal room, designed to almost sit alone within the garden, yet linked to the main building.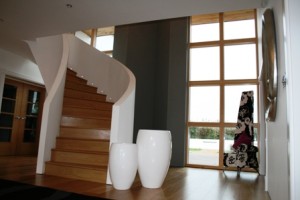 Internally, one of the defining features of the house is the helical staircase, by KDH Fabrications , which sits in the full-height entrance hall, with its combination of  white curves and rich timber treads. Mood lighting ensures the house is just as striking by night as it is by day. http://www.kdhfabrications.co.uk
The layout of the plan was designed to maximise the light gain from the sun path, flooding the house with light through the full-height glazing and linking through to the external garden areas defined by the plan shape. Internally the house can be opened up on the ground floor through the series of double doors into one large living space. Our clients sourced the internal fittings and co-ordinated the interior design, the success of which shows just how much the concept had enthused all involved.
Architect: Steve Hole
Contractors: Mike Higgon and FDS Construction