I jumped at the opportunity to design a tropical villa in Indonesia for an expat friend as would any architect who has looked at the glossy books and magazines showing contemporary tropical houses.
I love the freedom allowed by the climate, outdoor living spaces and in most parts the total absence of any planning authority control, not to mention the site visit I took at the end of September. There are of course still design constraints imposed by the site, in this case quite severe and ones client's own brief and preferences for style.
The site is a long narrow strip of land widening slightly and pointing out like a windsock into Kartini Bay just south of Jepara on the northern peninsula of Java. It's an area I know well having travelled there four times over the past ten years in connection with a factory project, built about five years ago for the same client.
Although Jepara is well off the tourist trail, it has a pleasant warm water coast with white sand beaches and access to the Karimunjawa Island Dive Resort about an hour's boat trip across the Java Sea.
The proposed villa scheme is based on the traditional architecture of Sumatra and the beautiful thatched grain store buildings in Bali. As with these traditional buildings, it is raised a full storey above ground level, not so much to avoid insect pests and predators but to allow parking and storage in the undercroft and to offer some protection should storms push the normal sea level.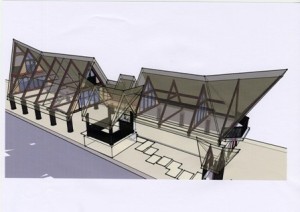 The structure is a simple series of  large "A" frames supporting intermediate floor structures and purlins under a reed thatch roof. Jepara is the furniture woodworking centre of Indonesia thus a wide variety of suitable sustainable hardwoods are available.
The separate living blocks of the design, linked by an open roofed walkway, are offset on plan within the walled site to create views to the sea for most rooms and to define external courtyards in the site for tropical gardens. The main outdoor living terrace off the lounge area has the prominent position at the front of the site immediately over the access lane and beach looking straight into the setting sun.