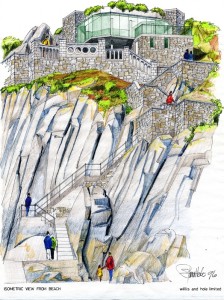 Cliff Café, Tenby
Client : Atlantic Hotel Limited
Design Brief
Creation of a new bistro bar for the Hotel within the established terraced gardens above the beach cliffs.
Design Solution
The scheme was designed in steel and reinforced concrete creating roof terracing and frameless structural glazing to maximise the panoramic views of the coast and Caldy Island.
The building was anchored back to the existing rock face in the central position amoung the Italianate Gardens created at the turn of the century.
It was envisaged that the new kitchen would serve food not only to the interior of the cafe and its new glass fronted terrace but to tables located on the roof and the other existing garden terraces that lead off from the existing steps down to the beach.
The building was designed to have a simple grill kitchen and air conditioning to counter the heat gain from the glass walls. Services to be brought under the road from the Hotel. Toilet facilities are provided at the lower level, waste water being collected in a pump house under the lower level and pumped back across the road to the hotel.
Contractors
Ross James Construction
Approximate Contract Value
£125,000